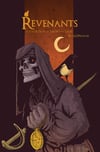 The third book of Eimurian Tales collected into an 86 page graphic novel!
Revenants collects three short stories from MDPenman's Eimurian Tales series. Everyone has things they have done in the past. People loved, choices made, actions taken… things that weigh heavy on them. From a long lost lover to violence and retribution, Revenants tells the tale of when things come back.
Eimurian Tales is an ongoing webcomic that features stand alone dark fantasy stories that weave a picture of the world of Eimuria between them!
*Note- I do ship worldwide, if your country is not available then please use the contact form and I shall add it*